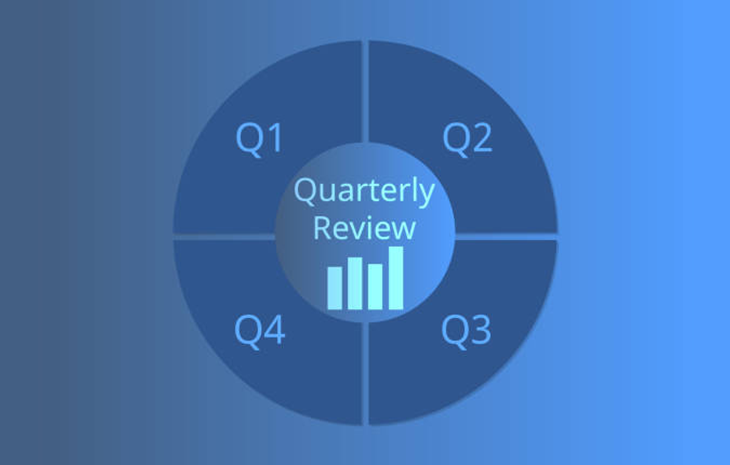 How to Conduct a Quarterly Review of Your Marketing Health
With the rise of digital marketing, sales and marketing alignment is the fuel that helps drive growth, particularly for B2B companies in complex industries. Most marketing leaders who direct robust digital marketing programs are already holding meetings to review analytics and refine tactics that could improve business results.
Whether or not you're not doing a weekly or monthly "smarketing" meeting, regular "checkups" at set intervals (quarterly or semi-annually) helps leadership keep sales and marketing initiatives synchronized and on the same page for the big picture. We recommend you organize a quarterly or semi-annual holistic marketing and analytics review. Here's where you step back from the daily grind to review the big picture and make a plan that coincides with more seismic business initiatives or goals.
A 7-Point Marketing Health Checkup Agenda
We recommend the following list to help guide your quarterly marketing health checkups — and keep you in the right quadrant.
1. Website Performance
What feedback have you heard from customers, salespeople and staff maintaining the website?
What's working, not working? Are there pages of the site that are difficult to maintain or edit? Do any pages need retooling?
What questions are prospects asking that could lead to new thought leadership content?
2. Sales and Marketing
How have your sales and marketing priorities changed since your last review?
Have new product or service launches changed the relevance or hierarchy of the content and navigation that you're presenting to website visitors?
What conversations is your sales team having with prospects? Is this narrative reflected on your website with appropriate content? [Do we have an example we can cite here?]
Consider the sales (projects, products or services) you most want to close, and which are most likely to close. Is the website addressing the buying cycle for these prospects? What's missing or getting in the way?
Has your product or brand positioning language shifted?
3. Strategic Business Initiatives
What new initiatives or organizational/marketing programs do you have planned for the next quarter?
What new content or features will you need to create to support new product launches or sales initiatives?
What new campaigns or organic search changes will be required?
Are there any acquisitions or other significant changes to the business on the horizon?
4. Analytics Review
Review a simple cloud-based dashboard for insights to guide changes and recommendations. (We like Google Data Studio.)
What channels and locations are leading traffic to your site?
Look at overall traffic patterns and trends, conversions and deal quality.
Note top organic queries and landing pages.
Review search engine and device breakdown.
Note keyword rankings, relevancy and movements up or down.
Examine PPC (pay per click) effectiveness; What search phrases, ad copy, keywords, and campaigns are leading to conversions and quality deals? Which are not?
Review social media channels; What campaigns and channels are drawing quality traffic to the site? Which aren't?
5. Heat Maps, Engagement and A/B Tests
Review heat maps of your top traffic pages, or those most critical to the buying cycle. How are users interacting with these pages? Are they clicking where intended? Do cursor movements indicate interest or frustration?
What do click-tracking videos show?
What conclusions can you draw from your heat maps and click-tracking to modify and test in the next quarter?
Review A/B test results and determine if you have enough data to make decisions, or need additional testing until the next period.
6. Content Review
What content is old, irrelevant or thin? What needs to be updated, combined, redirected or removed?
In addition to reviewing your most prominent site content, review data from Google Analytics for evidence of high bounce or exit rates. Additionally, what high-traffic organic landing pages no longer represent your brand?
Are the people featured on your About Us or Leadership pages up-to-date?
What recent work could make a great case study to feature on your site? Choose examples that tell a compelling story about how your company solves customer problems.
7. Prioritize Next Steps
For each assignment or project, document who's responsible and indicate a deadline.
Make goals and next steps SMART (Specific, measurable, achievable, relevant, and timely)
You may want to take on more than what's reasonable — wanting to fix everything now. However, resist this urge. Prioritize and focus on a few critical action items that will have the most significant impact, and set reasonable goals, focusing on quadrant 2 (important, not urgent) as much as possible. It's better to complete three high-priority projects than half complete six medium-priority projects.
It's also helpful to establish an hourly budget you want to apply against each item in the ensuing quarter. Budgeting hours ensure you're setting aside enough time to complete your high-priority projects.
For complex items, it's helpful to create a user story — a technique that's a common byproduct of teams using an agile software development methodology. A user story paints a clear picture of the end-user or customer, what the's purpose of the item in question, and why does it have value. As Tech Target explains, "The purpose of a user story is to write down how a project will deliver value back to the user." Simplified, you can create a user story with this Mad Libs sentence: "As a ____, I want ____, so that ____."
Finally, don't leave the meeting without documenting who's accountable for every initiative along with a firm deadline. It may also be helpful to hold one meeting to discuss projects and another for prioritizing and assigning responsibility.
Regular marketing health checkups guided by our 7-point agenda will keep your company focused on the tasks and initiatives that generate the greatest value. At the same time, this disciplined approach will ensure that both your sales and marketing initiatives are in lockstep.
BONUS: Fill out the form below to speak with one of our professional team members.